Esato News

Samsung introduces the Galaxy Mega 6.3 and Galaxy Mega 5.8
Apr 11
Samsung today announced two Android devices with really huge displays. The 6.3-inch Galaxy Mega 6.3 and the 5.8-inch Galaxy Mega 5.8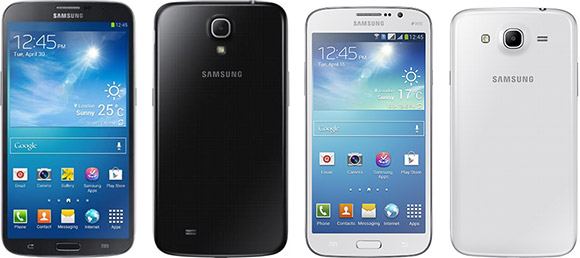 As we wrote earlier this week. Samsung is releasing two new Android devices with huge displays. As the model name reveals the Galaxy Mega 5.8 and Galaxy Mega 6.3 are a 5.8-inch and 6.3-inch smartphones.
The Galaxy Mega 6.3 is a LTE model powered by a 1.7 GHz dual-core processor. The 6.3-inch display has a HD 1280 x 720 resolution display. Except from the display size, you will not find this model differentiate itself much from older Samsung models. A dual-core processor is the norm these days as well as a 8 megapixel camera, Bluetooth 4.0, GPS and Wi-Fi a/b/g/n/ac. What's interesting with Galaxy Mega 6.3 is of course the display size and the fact that it is running Android 4.2. The battery is quite powerful with 3200 milliampere-hour. Having a 6.3-inch display means it will be tool large for most consumers. Well, that is what we said about the Galaxy SIII 4.8-inch display as well and we all know how the result of that prediction. But the 199 gram weight will probably be an issue. Add a microSD card, and we are very close to 200 gram. That is quite heavy for a smartphone.
Samsung Galaxy Mega 5.8 is the other smaller Android smartphone announced today. Again, the name says it all. It has a 5.8-inch display with a lower 540 x 960 pixel resolution TFT display. It is also less powerful with a 1.4 dual-core processor. But it too runs the latest version of Android. Galaxy Mega 5.8 lacks LTE support but it has Bluetooth 4.0, Wi-Fi a/b/g/n and GPS. The 8 GB internal storage can be expanded with additional 64 GB microSD card. The weight si 182 gram.
Both smartphones has got some of the features introduced with the Galaxy S4 last month. Drama Shot, Sound & Shot, S Travel, Group Play and Story Album. As usual, Samsung fails at mentioning the talk time and standby time for its new models. We are guessing the large 6.3-inch display will drain battery faster than normal 4-inch devices but the larger 3200 mAh battery will probably compensate a little for that.
Samsung Galaxy Mega 5.8 highlights
Size: 162.6 x 82.4 x 9mm

Weight: 182 gram

5.8-inch TFT touch display 540 x 960 pixel resolution

1.4 GHz dual-core processor

8 megapixel camera, autofocus, HDR

1.9 megapixel front camera

Wi-Fi a/b/g/n, Wifi Direct

Bluetooth 4.0

AGPS and GLONASS

HSPA+

1.5 GB RAM

8 GB internal storage. Expandable with additional 64 GB microSD card

Android 4.2 Jelly Bean

2600 mAh battery
Samsung Galaxy Mega 6.3 highlights
Size: 167.6 x 88 x 8 mm

Weight: 199 gram

6.3-inch TFT touch display

1.7 GHz dual-core processor

8 megapixel camera, autofocus, HDR

1.9 megapixel front camera

Wi-Fi a/b/g/n/ac, WiFi Direct

Bluetooth 4.0

AGPS and GLONASS

HSPA+, LTE 100/50Mbps

1.5 GB RAM

8 / 16 GB internal storage. Expan

dable with additional 64 GB microSD card
Android 4.2 Jelly Bean
3200 mAh battery
The Galaxy Mega devices will be available in Europe and Russia
News Index