Esato News

Samsung announces the Galaxy S4 mini
May 30
Samsung today announced the 4.3-inch Galaxy S4 mini. A 1.7 GHz dual-core Android smartphone with a Super AMOLED display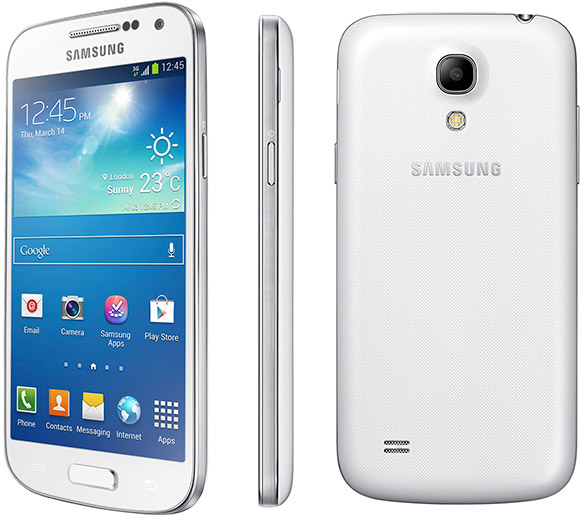 The Galaxy S4 mini announced by Samsung today is a smaller and less powerful version of the Galaxy S4. It has a 1.7 GHz dual-core processor, 1.5 GB RAM and 8 GB internal storage.
Samsung Galaxy S4 is not just a powerful Galaxy S4 in a smaller package. It has a display with lower resolution, a smaller battery and a camera with fewer megapixels. The Super AMOLED display has a resolution of 540 x 960 pixels. That gives the Galaxy S4 mini 256 pixels per inch. We would have hoped for a resolution of 720 x 1280 pixels for a Galaxy S4 device, but Samsung has chosen to save a little money on the display. Galaxy S4 mini has a 8 megapixel main camera and a 1.9 megapixel front camera.
A 1.7 GHz dual-core processor and 1.5 GB RAM should be enough for most users. This is a mid-range model after all. It will not be able to compete with the fastest quad-core models available today, but most users which the Galaxy S4 is targeted at will probably not notice much differences between this model and a faster one. Those who know what the difference between a quad- and dual-core processor is will most likely opt for the larger Galaxy S4 model.
We are impressed by the low weight of Galaxy S4 mini. It is only 107 gram for the 4G LTE and 3G HSPA+ edition. The dual-SIM model adds one more gram.
Like its bigger brother, the Galaxy S4 mini has several of the Samsung services installed. Shound&Shot combines still images and sound. S Travel is another feature with integrated recommendations from TripAdvisor. We will also find the other Samsung services such as Story Album, ChatOn, Samsung Hub and S Health. Using the WatchON IR remote will let users control their TV-set or DVD-player directly by aiming the Smartphone at these devices.
It is nice to see that Samsung has installed the latest version of Android on the smartphone. 4.2.2 Jelly Bean is the currently latest Android release from Google.
Samsung Galaxy S4 highlights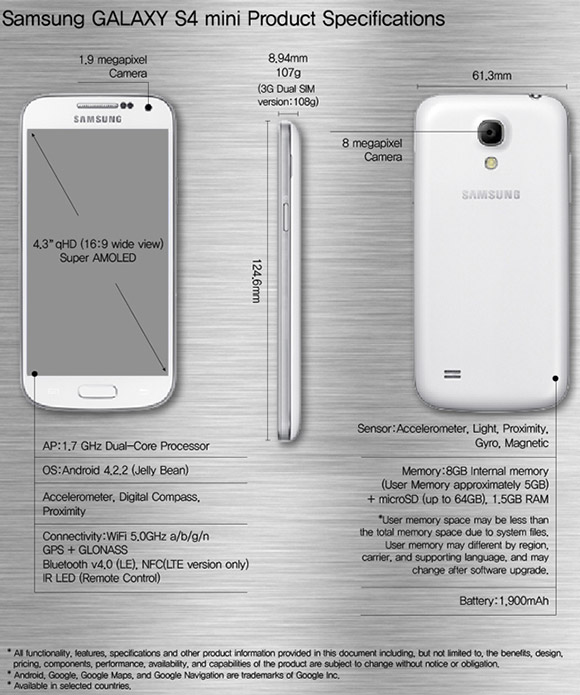 Source: Esato Norge, Samsung
News Index